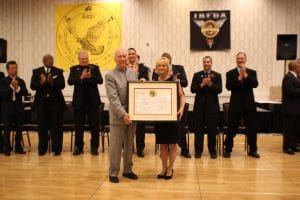 Lianf Fei Zhi
A student of fukien white crane chinese martial arts she has studied directly under the tutelage of Grandmaster S. L. Martin since 1988. she was the outstanding female competitor for the international federation of chinese martial arts organization for 21 consecutive years, and was the reigning top rated forms and weapons competitor in the united martial arts referees association sanctioned events from 1992 to 2008.
Additional studies include yang style tai chi chuan, southern shaolin, seven star praying mantis and white crane chi kung. Master Martin has also accompanied her teacher on nine trips to Taiwan, r.o.c. for personal study with white crane grandmasters. she is also one of the leading talents on the prestigious green dragon chinese martial arts school's international exhibition team. She is the director of the green dragon exhibition team, and a member and performer of the taiwan lion dance team.
In 2009, she received the united states kuo shu federation judge of the year award and in 2011 was appointed director of light contact and southern shaolin.
Master Martin was appointed "martial arts coach" for the taichung tang shou – dao shyue dao kwang association, by Grandmaster Hung Wen Hsueh in july 2006. Master Martin is the senior white crane disciple to Grandmaster S L Martin.
A graduate of the College of New Jersey, formally Trenton State College, she is certified in elementary education, special education and pre school handicapped. she is currently employed by the Bordentown Regional School district where she has served as a special education teacher since 1985. She is the recipient of the nj governor's teacher of the year award for Bordentown 2013.