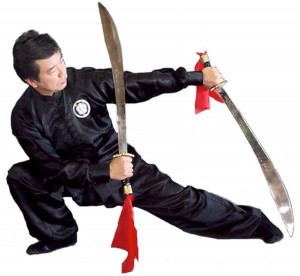 Master Calvin Chin was a black belt in Uechi Ryu before he started training in 1971 with the late Kwong Tit-Fu, founder of Fu Hok Tai He Morn. This is a unique teaching approach incorporating the higher level theories of Hung Gar Tiger Crane, Wu style Tai Chi, and Mu Dong Yat Hei Ngm Hahng Morn.  Each system is practiced individually, retaining its characteristics and integrity. Calvin Chin was chief instructor, top disciple and appointed successor of the system. In 1996, he opened Calvin Chin's Martial Arts Academy, Inc. (CCMAA) in Newton, MA, where he continues to teach and oversee classes.
Achievements & Activities:
Calvin Chin was awarded Outstanding Master in 2002 and inducted into the United States of America Wushu-Kungfu Federation (USAWKF) Hall of Fame. He was awarded Judge of the year in 2007 by the United States Kuo Shu Federation (USKSF). He has participated in masters' exhibitions, judged in tournaments, held seminars and published articles in Inside Kung Fu and T'ai Chi Magazines.
In December 2002, his interview was the cover article in T'ai Chi magazine. In 2005, he completed the first National Wushu Tai chi Instructors and Judges Certification course in Connecticut. He held trials for the 1st and 2nd International Wushu Festivals, and was a team leader for the first event held in Zhengzhou, China 2004. Master Chin is currently on the board of USAWKF.
CCMAA Awards:
Master Chin's students at CCMAA participate in numerous tournaments along the east coast and have won an impressive number of individual medals and team awards over the past several years. His performance team is as strong as it has ever been, with several long-term students achieving a higher level of learning.