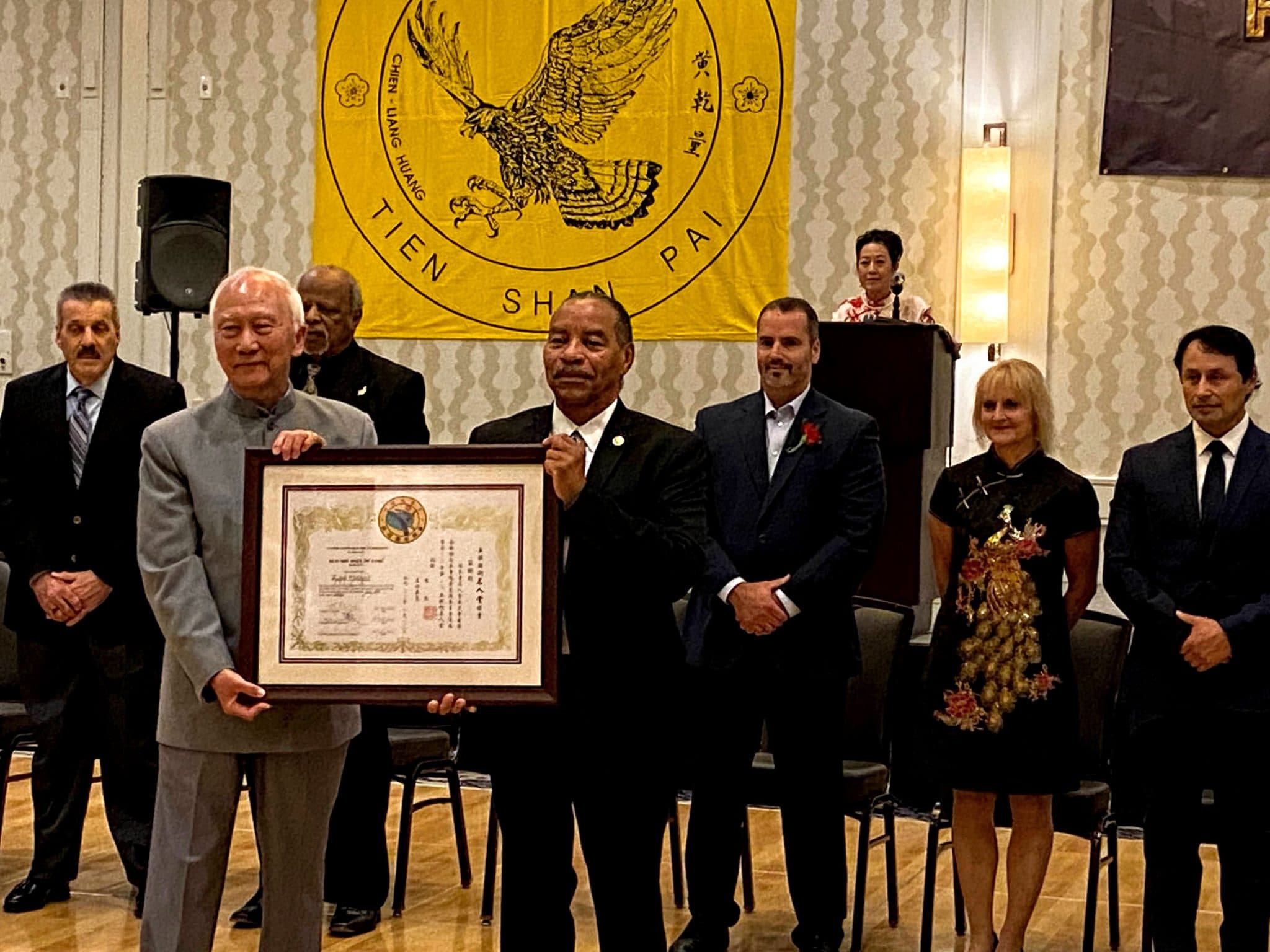 Master Ralph Mitchell has demonstrated and promoted "martial ethics" by practicing and adhering to the principles and philosophy serving as tournament judge at U.S.K.S.F. tournament annually for over 20 years, Including the World Cup Tournament held in Maryland, and leading his students to compete at the USKSF tournament from 2009-2015. Master Ralph Mitchell had received numerous Medals or Certificates of Merit from the U.S.K.S.F. for his performances in the master's demonstrations during the Kuo Shu Tournaments through the past 20+ years. He has been a practitioner of the martial arts for over 50 years. As one of the first non-Chinese to train in New York City's Chinatown kung fu schools in the early 1960s, Master Mitchell began his study of the Chinese martial arts under Grand Master Gin Foon Mark in the Kwong Sai Jook Lum Southern Praying Mantis system. However, his earliest martial art training was Judo under Higashi Sensei, from whom the Master learned to integrate the subtle art of throws and submissions with kung fu. He served in the US Army as an infantryman in Vietnam from 1969 to 1972 where he gained some of the most valuable lessons about combat, self-defense, and self-preservation. Immediately upon his return to America, Master Ralph Mitchell resumed his Southern Praying Mantis training with Grand Master Gin Foon Mark and later became his disciple. In Vietnam, he also learned to appreciate other Southeast Asian martial arts. As a decorated combat veteran, he returned to Thailand to train in the punishing art of Muay-Thai. While he won numerous tournaments locally in NYC and internationally, Master Ralph Mitchell's early kung fu career culminated in taking second place in his weight division in the Second World Kuo Shu Tournament in Taiwan. Master Mitchell trained and fought for the next three decades. His ability to function as a coach as well as a traditional Kung Fu Shifu enables him to provide his fighters a unique balance of martial arts and martial ethics.
In recent years, Master Ralph Mitchell was inducted into the World Headmasters & Sokeship Council as well as into the World Ving Tsun Association Lifetime Achievement Hall of Fame. He has earned the 9th level Black Sash of the United International Kung Fu Federation. Having served as an official and a certified national judge at the United States Kuo Shu Federation Tournament in Hunt Valley Maryland annually since the early 1990s and performed in many Master's Demonstrations, Master Ralph Mitchell has been a consistent leader and a role model in the finest Kuo Shu tradition.
His students have won many gold medals in Light-contact sparring, Fixed Stepped Push-hand, and Moving Step Push-hand.